First Visit
At Riverpark Dental, we put a special emphasis on your child's first visit with us because it becomes the foundation of our relationship. To ensure we have all the important information regarding the child, we work closely with the parents and guardians so that we have the resources needed to provide the most complete and comprehensive dental care. This visit is not complete unless everyone is comfortable and relaxed, and of course having fun!
When you first come to Riverpark Dental, we will present and describe all of our equipment, our air and water shooter, and of course Mr. Thirsty (our suction tip). Your child will also strap in for a ride on our dental chair.
At Riverpark Dental we believe in establishing long-term habits with an emphasis on preventative care by empowering and educating our patients on how their flossing, brushing, and nutrition tendencies impact their dental health. Of course this relates to their overall health as well because its connection to dental health has been growing stronger. We will also tell them about "sugar bugs" and what they can do to avoid them. It's our joy to reinforce positive dental habits and it's even more effective when parents partner with us.
When their visit is over, our Treasure Chest is ready for them to pick a prize for their good behaviour.
Child/Parent Visit
If your child is too small for our dental chair, we will provide them a soft booster seat that goes on top of the regular dental chair. We use the "lap-to-lap" technique for younger, smaller children, which involves the parent holding the child on their lap by the waist and the child's head lay on the dentist's lap. Regardless, we will make your child feel comfortable and relaxed so that we gain their confidence and trust in Riverpark Dental. Children who are not being treated should remain in the playroom or reception area of the dental practice with parental supervision. If you arrange in advance, we can offer you complimentary child care.
Establishing Your Child's Dental Home
Many reputable sources including the American Academy of Pediatrics, the American Dental Association, and the American Academy of Pediatric Dentistry all encourage the formation of a child's "dental home" before their first birthday. When children have an ongoing, constructive, and trusted relationship with their dentist, this creates a safe "home" feeling for them and puts them in a better position to perceive and receive routine oral health care. Part of having a dental home includes having all aspects of oral care constantly accessible, accurately coordinated in a complete and family centered way.
You as the parents can do your part in making your child's first visit at Riverpark Dental enjoyable and positive by informing them of when and where they're going, and that our team will explain everything we will do and answer any of their questions. At Riverpark Dental, we make it a non-negotiable to avoid problematic words around children such as needle, pull, drill, or hurt because they can cause unnecessary fear and anxiety. Part of our mission, to provide the most enjoyable dental experience, includes describing procedures that convey the same message, but with safer words.
Teeth Eruption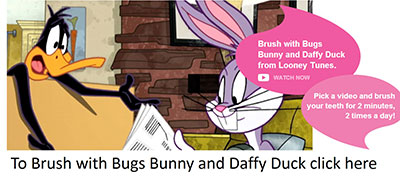 The pace of growth of primary teeth varies with every child, as yours is uniquely different from someone else's, but generally all 20 primary teeth should have erupted by age 3. At age 6, the permanent teeth begin to erupt, commencing with the molars and lower central incisors.
Healthy eating habits = healthy teeth
The teeth, bones, and soft tissues of the mouth need a well-balanced diet just as much as the rest of the body does. Eating a variety of foods from the five major food groups ensures they get a variety of nutrients that are essential to their health. Many branded snacks are targeted at children with attractive colors, characters, and sugary tastes, and of course are bad for dental and overall health. In addition, snacks that stay in the mouth for long periods of time such as mints and hard candies give bacteria more time to feast on the simple sugars and produce enamel eating acids. Some good examples of snacks for kids that are healthy for the teeth and the rest of the body include yogurt, cheese, vegetables, nuts, and fruits.
Why Are Primary Teeth So Important?
People tend to think that since primary teeth aren't permanent and will fall out anyway, it's okay to neglect their care and it won't be harmful. After all, they're being replaced anyways, right? The opposite is true, cavities formed from neglected primary teeth lead to problems that affect the development of permanent teeth. Primary teeth are important for the following reasons:
They provide proper spacing and positioning for the permanent teeth when it is time for them to erupt.
They give way to proper chewing and eating.
They provide proper development of the jaw bones and muscles. Facial muscular imbalances can arise when primary teeth don't develop properly.
Primary teeth don't only provide an attractive appearance but also affect the development of speech . The four front teeth last until the child is 6-7 years of age, but the back teeth (bicuspids and molars) don't get replaced until the child is 10-13 years old.
Baby Bottle Tooth Decay
You'd probably never think of feeding your toddler milk as a potential threat to their health. It can be, unless the proper precautions are taken! Baby bottle tooth decay (known by dentists as early childhood caries) is a serious condition among toddlers, and is caused by prolonged teeth exposure to sugary fluids. Such fluids include milk, formula, fruit juice, and other sweetened drinks.
Baby bottle tooth decay can occur when the toddler is put to bed with a bottle containing something other than water. As the sugary liquid marinates around the toddler's teeth, bacteria then have the opportunity to eat those sugars and produce tooth enamel attacking acids. If your toddler is not sleeping comfortably without a bedtime bottle, the bottle should contain only water. On the other hand, your toddler may not be able to sleep comfortably without the bottle's usual contents, and in this case the solute should be diluted with water over a period of 2-3 weeks.
Hygiene
Practicing good oral hygiene means you are removing bacteria and left over simple sugars from your teeth, because these combine to create cavities. Older toddlers should have their teeth brushed twice a day and also should be monitored for the number of sugary snacks they eat.
According to the American Academy of Pediatric Dentistry, your child should be visiting the dentist every 6 months commencing with their first birthday. Having your child visit their dentist regularly will establish a deep foundation of lifetime beneficial dental habits.
Fluoride
Fluoride is an element that is beneficial to teeth when administered in the right amount, too much or too little can be counterproductive to your child's and your own dental health. When there is little to no fluoride, your teeth will not be strong enough to resist cavities. On the other hand, too much fluoride can lead to a condition called dental fluorosis, characterized by a chalky white to brown discoloration of the permanent teeth. Children can be getting too much fluoride without their parents even noticing, and thus it is important that parents be aware of their child's fluoride intake to prevent dental fluorosis.
Some ways children can be getting too much fluoride include:
Using too much fluoridated toothpaste at an early age.
Using fluoride supplements inappropriately.
Not paying attention to fluoride sources your child's diet.
It is important that children do not ingest fluoride containing toothpaste when they brush their teeth, because this is a critical stage in their permanent teeth development and poses the greatest risk for the onset of fluorosis. Fluoride containing supplements should only be administered after all other sources of fluoride in the child's intake have been accounted for, and if your dentist recommends supplements. Some foods and drinks contain high levels of fluoride such as decaffeinated teas, white grape juices, and juice beverages that are manufactured in fluoridated cities.
Parents can lower the risk of fluorosis in their children's teeth with the following solutions:
Only use a pea-sized amount of toothpaste when brushing.
Keep track of all fluoride sources in the child's diet before requesting supplements from the dentist.
Do tests on your drinking water to see the concentration of fluoride before giving fluoride supplements to your child.