What is it?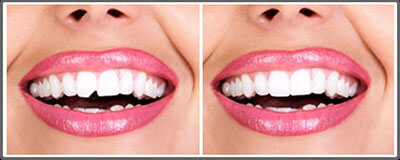 Bonding is a cosmetic dentistry treatment for discolored or chipped teeth or gaps between teeth. Bonding can be the perfect solution for you if you have any of the previous conditions and can be completed in as little as one visit. Bonding is a great option for patients who are looking for a quick fix to their problems because it doesn't involve taking any impressions to be sent back and forth between Riverpark Dental and a dental laboratory, and often does not involve second visit to the office.
Whether you are looking to enhance the shape or color or bring back normal functioning to your tooth, we commence the bonding treatment by applying the dental resin (composite filling material) directly to your tooth. The resin will identically match your tooth color.
When is bonding needed/ Risks of not having it done?
Bonding is a recommended procedure for patients with chipped teeth or who want to fill in a gap between their teeth.
Gum recession is often caused by brushing around the gum line too harshly or by periodontal disease. Bonding is a viable option for patients suffering from gum recession because the dental resin will protect the exposed and highly sensitive root of the tooth. Another use of bonding is it can be used as a substitute to amalgam fillings.
Bonding brings the sophisticated and attractive appearance of that perfect smile without the extensive time and high-price tag as other cosmetic dental procedures.